The 2017 Education Forum for Asia Annual Conference was hosted from Oct. 27th to Oct. 29th in Chengdu, Sichuan and achieved a full success.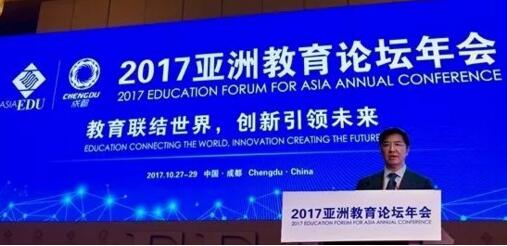 Supervised by China Association of Higher Education, supported by China New Technology Development Center-CAST, Education Forum for Asia Training Center, Chengdu Bureau of Expo Affairs, Chengdu Education Bureau, organized by Secretariat of Education Forum for Asia, Distance Education in China, co-organized by Macau Foundation, Macau Education and Youth Affairs Bureau , Macau Science Center, National Association for Early Childhood Education (Taiwan), National Education Society (Taiwan), India China Economic & Cultural Council, Center of Study of Civilizations, CNU/MOE, Preschool Education Committee of the Chinese Association for Non-Government Education, Alliance of Science-Technology Innovation Education of the CSE, China Internet Education Leadership Association,China Scientific and Cultural Industry Net, China Education Think Tanks, Taiwan Edison Creative Invention Academy, Chinese Intercultural Association, Sichuan International Exhibition Corp., Education Forum for Asia Training Center, Eurasian Center for Education Development, John Howkins Creative Ecology Lab,
Confucius International School Chengdu, SeaDragon Innovation Institute of International Education, Chengdu Time Vision Culture Communication Co., Ltd, CGH Consulting, Taiwan Edison Creative Invention Academy, Taiwan Edison Creative Technology, Taiwan Edison Creative College , CIE International Education Group, Oxford Interlink Ltd, Chinese Suit.
The Conference has attracted delegates ranging from statesmen, diplomats, scholars, entrepreneurs and journalists coming from 29 countries including Austria, Australia, Canada, France, Germany, Hungary, India, Indonesia, Iran, Israel, Italy, Malaysia, Nepal, Pakistan, Poland, Philippine, Saudi Arabia, Singapore, Sri Lanka, Tajikistan, Thailand, Turkey, United Kingdom, United States and other countries and regions and representatives both at home and abroad, altogether adding up to 600 attendees in total.
Centered on the theme of "Education Connecting the World, Innovation Creating the future", this annual conference fully demonstrated the historical mission bestowed on educators in this era. The five parallel sessions:The Belt & Road University-based Think Tank Forum, International Education Exchange and Cooperation Forum, Science Technology Education Forum, Youth Creative Invention Forum, Internet Plus Education Forum all achieved a great success. In the packed conference halls, speakers gave insightful speeches that stirred up brainstorms and heated discussions among attendees.
The 2017 Annual Conference of Education Forum for Asia has further brought the attention of Asian countries to education, science and technology, as well as talents, highlighting international collaboration and communication in education and science and technology. We hope that the Conference would serve as a platform so that grass-root teachers will have more opportunities to bring about practical educational problems, teaching methodology would be improved, Chengdu could initiate more dialogues with the world to deepen its communication and collaboration with the world. The Conference would drive the internationalization of west China's education, to enhance the communication and collaboration between west China and the world. Educators of Asian countries could gather together to discuss the relationship between education and economy and social development, to explore the new way to achieve a balanced growth in Asian education, and to enable Asian countries to complement to each other with their educational advantages, making significant contributions to a more sustainable development of Asian education.